Beauty Products Containing Pomegranate
Throughout history, the pomegranate has been considered a symbol of health and rebirth. Even Aphrodite, the goddess of love, used pomegranate as a powerful love potion.
Today, this ruby red fruit is the latest superfood providing vitamin C, potassium, and antioxidants. If you're looking for a rosy glow, try pomegranate on the inside and outside of your body.
Korres Pomegranate Balancing Moisturizer
Made with pomegranate extract, this balancing moisturizer for combination skin helps to reduce the look of pore size and rejuvenate the skin.
It keeps your skin fresh, without causing unwanted shine. You can also use this moisturizer as a makeup base whether you apply a liquid or mineral powder foundation. 
Queen Helene Pomegranate and Raspberry Scrub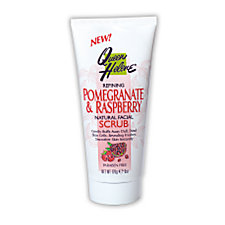 This facial crub combines the healing properties of pomegranate and raspberry to wash away lifeless surface cells and impurities that dull your skin.
Ingredients like pomegranate oil contain antioxidants that protect against the environment's skin-aging effects, while raspberry seeds expose more refreshed and vibrant skin.
Gotta Have It Pomegranate Shower Sherbert
This body wash comes in a 16-oz. ice cream pint and looks good enough to eat. Containing jojoba oil and vitamin E, you can use this sherbert daily to exfoliate, cleanse, and moisturize.
With a long-lasting aroma of pomegranate, this sugar scrub is a great way to treat yourself to something sweet without the calories.
Stila Pomegranate Crush Lip and Cheek Stain
Leave it to inventive Stila to combine the great color of pomegranate in a cheek and lip stain. This multitasking stain contains pomegranate extracts that react to your personal pH levels to create a custom deep plum shade.
With the scent and flavor of a fresh pomegranate, Stila's Pomegrante Crush leaves your lips and cheeks flushed with rosy color.
x