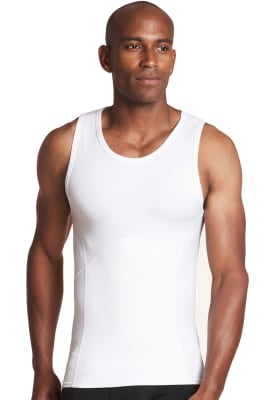 Man Spanx at "Marks and Sparks"
Men have been getting away with beer bellies for years, but not anymore. Marks & Spencer has launched a line of fat-busting garments for men, including vests (undershirts) and t-shirts.
The Bodymax collection features hidden panels that make the waistline appear at least 1.5 inches smaller.
Bodymax was developed by the British retailer in response to men becoming more conscious of their appearance. The company believes their line of body shapers will offer a quick fix solution for lumps and bumps just like it does for women.
Prices for the manly shape wear start at about 12 pounds ($20 US ) for the vest and 15 pounds ($24 US) for the t-shirt.
Update: Spanx has now stepped into the men's shape wear niche. Spanx for Men includes cotton undershirts that do it all: firm chest, flatten stomach, improve posture, and support lower back.
[Image via Marks and Spencer]
You might also like:
x
x
x